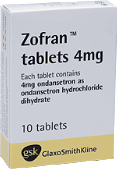 Zofran® During Pregnancy Not Approved by FDA
Zofran an anti-nausea medication sadly is often to pregnant women for morning sickness. The major concern to many Doctors is that Zofran was never approved by the FDA to be used by women during pregnancy, but only for patients undergoing chemotherapy and for surgery patients. Zofran (ondansetron) has been shown to increase the risk of developing a fatal heart rhythm especially in patients with underlying heart conditions and increasing the risks of congenital heart defects, cleft lip and cleft palate in babies of mothers taking Zofran during pregnancy. Many Zofran birth defect lawsuits have been filed and 100's more are being investigated for filing in courts around the United States.
FREE ZOFRAN CASE REVIEW – CALL 1-800-883-9858
In fact GSK paid a Three Billion Dollar fine in a civil law suit involving allegations that GSK promoted Zofran and other GSK drugs to Doctors who in turn prescribed it to pregnant women and other patients that these drugs were never approved for or intended. The safety of Zofran during pregnancy has never been tested or proved. since it was submitted to the FDA in 1991 or at time of FDA approval for use in 1993. In fact in 2007, Zofran was shown to cross the placental barrier from the mom to the fetus. No FDA Zofran recall has been annouced by the FDA or GSK. Taking Zofran 4mg or Zofran 8mg, oral dissolveable tablets (ODT) or the Zofran IV, taken during pregnancy has not been approved by the FDA.
Zofran Birth Defect Lawsuit - Talk to a Lawyer Now
Currently our law firm is assisting over 300+ families with children with birth defects that may be due to the mother being prescribed Zofran while pregnant. We have a dedicated team of lawyers ready to review your potential Zofran birth defect lawsuit. The makers of Zofran intentionally withheld from the Doctors across the United States important test results or adverse events of birth defects in order to keep sales of Zofran strong. The Willis Firm is preparing many cases at this very moment to file a Zofran Lawsuit.
Common Birth Defects of Zofran Pregnancy Clients include:
Atrial Septal Defects (hole in heart) ASD
Ventricular Septal Heart Defects VSD
Cleft Palate, Cleft Lip
Spina Bifida and Neural Tube Defects
Pulmonary Artresia
Aortic Stenosis
Coarctation of the Aorta (CoA)
Abdominal Birth Defects / Omphalocele
Cranial Birth Defects / Craniosynostosis
Hypoplastic Left Heart Syndrome (HLHS)
Persistent Pulmonary Hypertension (PPHN)
Tetralogy of Fallot (TOF)
Club Foot / Feet
Shortened Limbs (Arms and Legs)
Zofran® Pregnancy Birth Defect Lawsuit – Talk to Lawyer
Talk to a Board Certified Personal Injury Trial Lawyer licensed in Texas and in New York with a National Presence with the Highest Peer Review Rating. All Zofran birth injury cases are taken on a contingency fee basis and the client is never charged an attorney fee or any legal case expenses unless a recovery is obtained.
If you took Zofran during pregnancy and later your child was born with a congenital heart defect, cleft lip or cleft palate or other serious birth defect, then call for a Free & Confidential Zofran Lawsuit Evaluation.